It was the middle of January when I got the call that I was hired as Fan Engagement Coordinator for the World of Outlaws CASE Construction Equipment Late Model Series.
Besides being ecstatic, I was contemplative. For my entire life, I had one goal: become a play-by-play announcer in the NHL. After all, the previous job I held was as the play-by-play announcer for a minor league hockey team in the ECHL.
I wanted something different midway through the hockey season. Going through the hiring process and adjusting my career course I thought I was on was truly nerve-racking.
As the dog days of summer begin, and I get settled into my new home in Charlotte, N.C., I couldn't be happier and more excited to be a part of the World Racing Group.
---
I flew down to Daytona Beach to join the WRG team at the DIRTcar Nationals at Volusia Speedway Park in February not knowing what to expect. That night's racing and the next few days' were all rained out, giving me ample time to get to know the WRG crew. Immediately, I felt a good vibe coming out of mine and the group's conversations.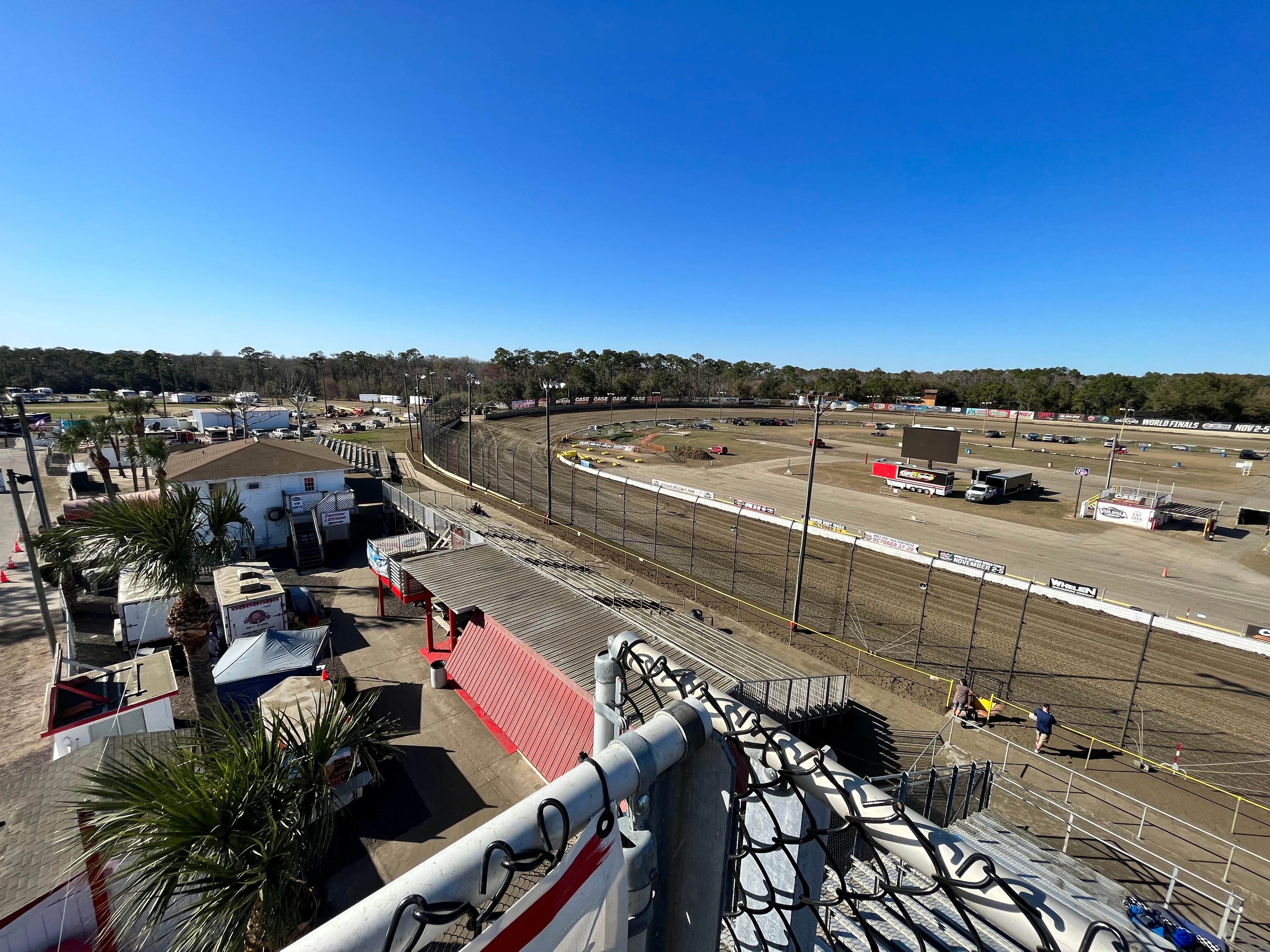 The sprint cars were up first. I learned from Jordyn Trulli and Hannah Rickards about what our fans are like, what they care about. I can't tell you how many times I asked, "Who wants a free sticker?!" during those few days the World of Outlaws NOS Energy Drink Sprint Car Series was center-stage. And let me tell you, tool boxes and trucks were looking extra spicy after that!
Being entrenched in the dirt racing world for the first time was exciting. I come from an asphalt background.
While my family never really cared about racing independent of my interests, I loved anything that had four wheels - sometimes two - and an engine. I couldn't get enough motorsports in my life. NASCAR, IndyCar, Formula 1, Formula E, the WRC, and so many more series.
It wasn't until I caught a weekly race at Bridgeport Motorsports Park in New Jersey in 2020, just outside my cultural hometown of Philadelphia, Pa., that I saw a dirt race for the first time. It was electric.
Then, I went to Bridgeport again for the World of Outlaws Sprint Cars. Next, it was Williams Grove Speedway for more weekly racing.
I loved it. But I had so much to learn about the discipline. I still do.
That second week at Volusia was the Late Model week. I met everyone I'd end up working with while on the road with the Late Models. From broadcast moguls Hannah Newhouse and Rick Eshelman, to series officials in Erik Grigsby and Casey Shuman.
It was also my time to get to work where I feel most comfortable: on the microphone.
---
"Are you ready for some racing?"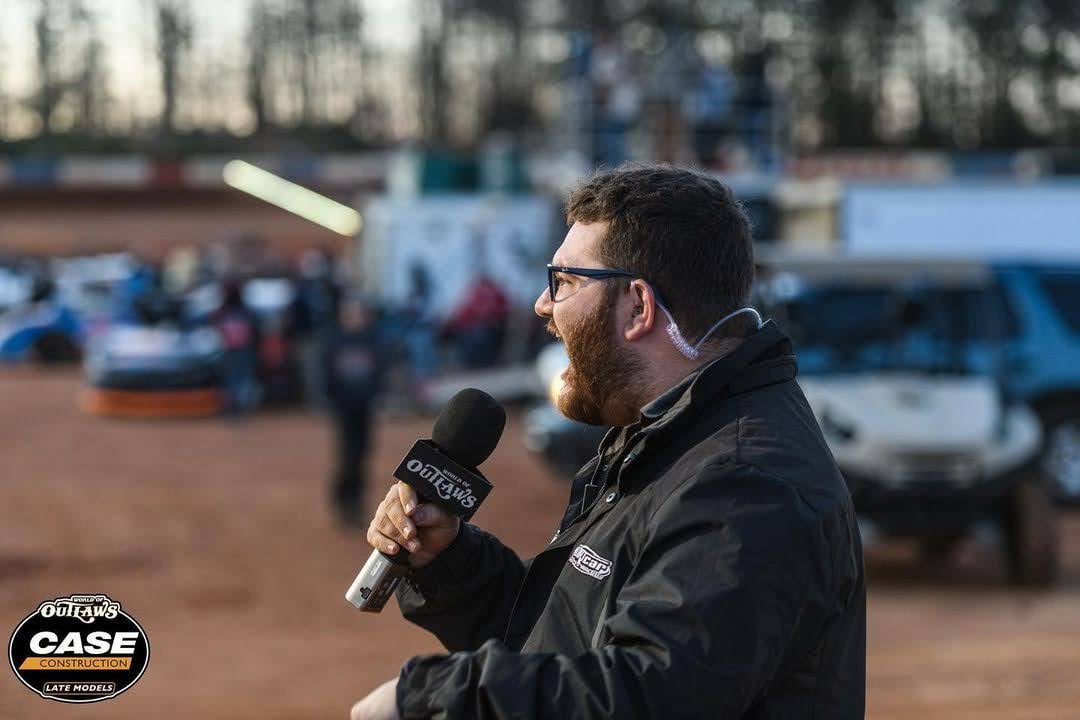 It's a simple question. It also precedes an exclamation point when I yell it into the mic on stage to our thousands of fans at the track and even more watching on Dirtvision.
The first time I was on stage at a WRG event was night one of the WoO Late Models race at Volusia. I interviewed Brandon Sheppard, and I'll be quite honest, I didn't know about him until shortly before joining the tour.
Again, so much to learn.
I introduced our invocation and our anthem singer, and I finally asked that important question.
Truth be told, I've combined bits and pieces that I've heard other famous sports personalities exclaim to create the "Are you ready for some racing?" schtick.
First, Bruce Buffer, the octagon announcer of the UFC, always says, "It's time!" He draws out the word "time" for nothing other than dramatic effect. It's awesome.
So, I start my ending bit like this: "Alright race fans. It's time!"
There was a movie called Network, released back in 1976. At one point in the movie, the main character sat at a news desk and said, "I want you to get up now. I want all of you to get up out of your chairs."
Hence, the second part: "I want you to stand up! I want you to get loud!"
The last part - "Are you ready for some racing?" - is actually based off a phrase the Philadelphia Flyers' public address announcer, Lou Nolan, uses when the hockey game is about to begin. With similar cadence, he asks the fans, "Are you ready for some hockey?"
---
Those first couple weeks were a whirlwind. From interacting with lifelong fans of the sport to getting my feet wet in the world of dirt racing, I was more than excited for what was to come.
Throughout the first few months of the Late Model schedule, I've experienced many eventful nights at the track, long hangout sessions with our traveling team, first-time winner celebrations, pranks played on me, and enough fun stories to fill this blog for years to come. The opportunities that open up just from working in the racing industry are incredible! I mean, I've fulfilled lifelong dreams of going to the Daytona 500 and Indy 500 just a few months apart. Just insane.
So, what's the point of this section on Be-An-Outlaw.com? As one of the few direct links connecting our fans to the series, I want to provide an exclusive look of life on the road from someone with the World of Outlaws. I want to hold an open dialogue on what you, the fan, wants to see more of - and see less of - at the track. Most importantly, I want to be someone you can all enjoy seeing from week-to-week and grow the brand that is #OutlawTough.
In just a few years, this company has grown exponentially. With that comes higher expectations, and we will always strive to meet them.
I can't wait to share my upcoming experiences this season with you all. Until then...
Coyle out.