Big Cat Behavior
If you saw the "Big Cat" origin story video, you now know how Brad Sweet attained his ferocious nickname. Well, here's how my varied career helped bring that piece together.
My introduction to motorsports came from my dad, who never raced but gained a love of speed from his boat-and-jalopy-racing father. Once my grandpa's driving career ended, he became a full-time fan who showed my dad the fundamentals of drag racing at 1/8-mile tracks in the Midwest.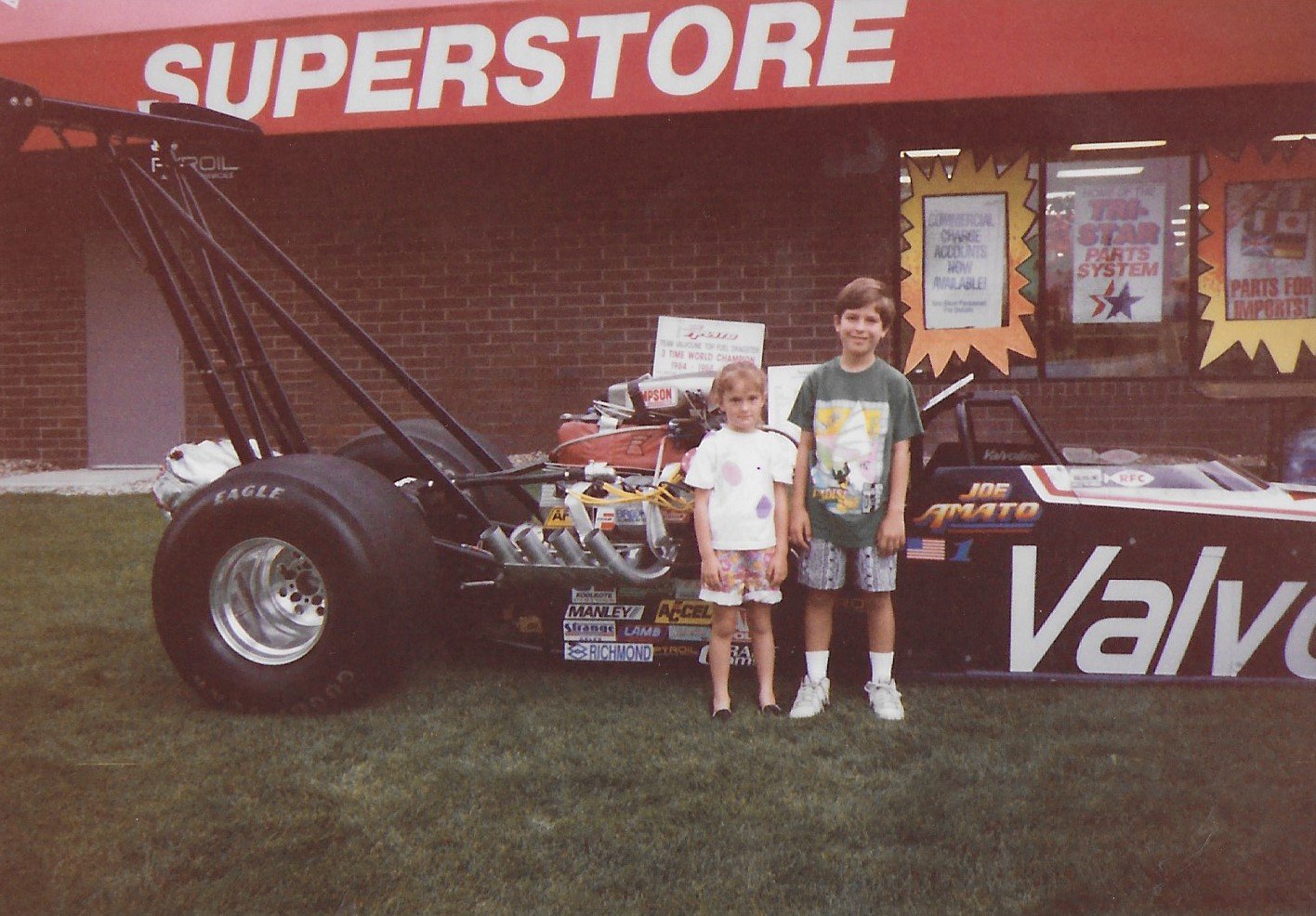 Like my father, I spent my childhood inhaling nitromethane at Bandimere Speedway in Morrison, CO, and Wild Horse Pass Motorsports Park in Chandler, AZ. When the time came to select a career path after moving to Las Vegas, it surprised no one when I chose to use my journalism degree to chase quarter miles.
Las Vegas Motor Speedway provided one of my earliest opportunities to host Q&As inside a hospitality area called Club Nitro. During the fall 2016 NHRA event, Kalitta Motorsports drivers Del Worsham and J.R. Todd joined me onstage during a rain delay. At the time, Del was driving the DHL Funny Car and J.R. piloted the SealMaster Top Fuel Dragster. Throughout the session we discussed Del jumping straight into nitro cars when starting his career, J.R.'s desire to try Funny Car, and whether Del's BMX background helped with professional drag racing (spoiler alert: it didn't). A few days after the interview, J.R. and I kept in touch by connecting on social media.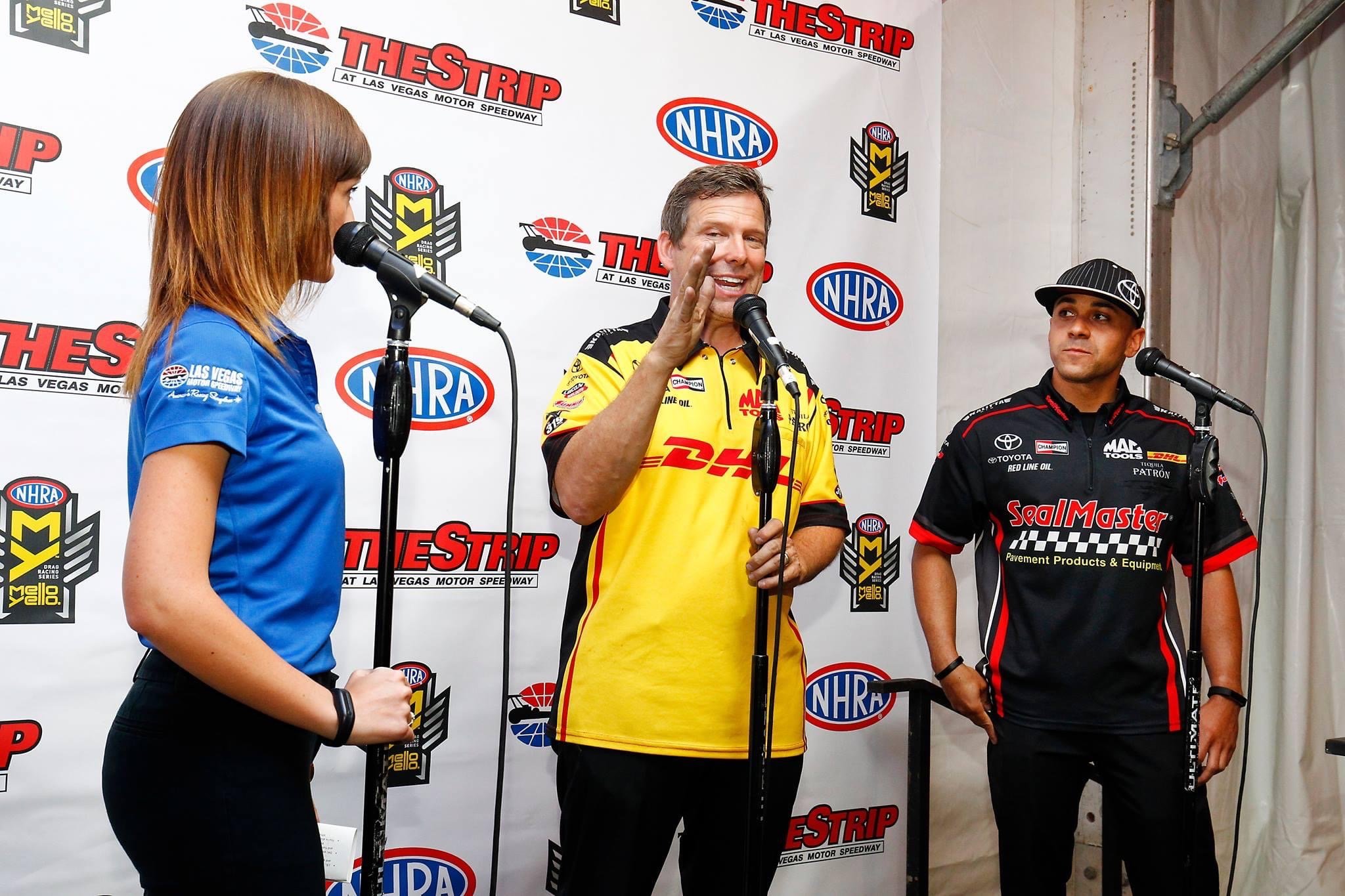 Once the offseason arrived, Del retired from driving and J.R. found himself switching from fuelers to floppers. By September 2017, I found myself transitioning from LVMS to NHRA full-time, too.
During my three years on the NHRA circuit, I worked on a variety of projects including coordinating intro songs for Friday night's "NHRA Prime Time" qualifying. J.R. tailored his selections to each location, which resulted in an exchange of texts every event week. With the history from LVMS, communication at NHRA, and a mutual admiration for Foo Fighters, we developed a comfortable working relationship.
Once my path took me from NHRA to World of Outlaws, I assumed connections from the straight-line world wouldn't carry into dirt. Thankfully, that quickly proved to be incorrect. In an interesting twist, the drag racers who are confirmed Sprint Car fans are Funny Car champions: Ron Capps, Cruz Pedregon, and J.R. Todd (haven't figured out the correlation but there must be one, right?).
As I navigated my new dirt world, I heard rumblings of J.R. being involved in Brad Sweet's nickname yet couldn't work up the nerve to ask Brad. Finally, on the seven-hour drive from Charlotte to Lincoln Speedway, I threw caution to the wind and texted J.R. to see what he would share.
First, J.R. questioned if I'd spoken to Brad. I replied, "I haven't, but am toying around with asking him during a dash draw. Thought I'd ask you first." Knowing his version would set the bar, J.R. launched into the tale centered around two roommates in Indiana who acquired the nickname from watching MTV.
Though the story seemed simple, it provided a humorous look into their lives before becoming champions in their respective disciplines. I processed the information for a few days and realized this was a bigger anecdote than a brief interview could do justice for.
However, since I didn't come from a dirt racing background, I assumed the story was already widely known. I bounced the idea off our series content producer Tony LaPorta, who admitted he also didn't know the basis of the nickname. He then expanded the concept into interviewing fans and drivers for their theories on the origin story, as well as having J.R send a video telling his side. From there, the Big Cat video was born and the full story came together.
The video quickly became a highlight of my career so far, and I loved uniting my drag racing and dirt track worlds. Thank you to Tony for elevating the project beyond my initial vision, the drivers and fans who gave their guesses, and J.R. for sharing the story and still answering my texts.
If there are any other topics you'd like us to investigate, please let me know! We'll gladly dig around the pits for answers again.